---
You visit the orthodontist to get braces or clear aligners put on your teeth. But your orthodontist says you need a good cleaning first, so you should visit a dentist. But wait — aren't they the same thing? What is the difference between a dentist and an orthodontist? What does a dentist do? What does an orthodontist do? It can be very confusing.
There are very important differences between a dentist and an orthodontist. We also know that it's important for patients to regularly visit both while undergoing braces or Invisalign treatment. Though they are different, a dentist and an orthodontist are both important to your oral health. Your dentist and orthodontist work as a team to get you a healthy, straight smile.
What Is A Dentist?
The confusion between a dentist and an orthodontist may be because orthodontists and dentists start with the same training. So technically, all orthodontists start as dentists. However, all dentists aren't orthodontists because orthodontists undergo additional schooling and training.
A dentist goes to dental school to be trained in general dentistry. Once they have completed dental school, they are ready to work in general dentistry. This means they can clean teeth, fill cavities, install crowns or dental implants, and provide fluoride treatments.
When should you see a dentist for the first time? A child should see a dentist by their first birthday. After that, you should see your dentist at least two times a year for a cleaning and dental check-up.
Have you heard of a dentist offering Invisalign or other clear aligner services? Technically all dentists and orthodontists can offer these services, but orthodontists have gone through additional training and have the expertise required to give you a healthy, straight smile that lasts a lifetime.
What Is An Orthodontist?
An orthodontist starts the same way as a dentist — with dental school. But unlike dentists, orthodontists don't stop there. Instead, they move on to special certification programs that train them for orthodontic work. They learn the art and science behind moving teeth and creating new smiles. Once all of this training is complete, they are officially orthodontists.
To put it another way, an orthodontist is like a specialized dentist, sort of like a cardiologist is like a specialized doctor. Both are trained as doctors, but if you want someone who knows what's best for your heart health, would you go to a general practice doctor or a cardiologist? It's the same with a dentist vs. an orthodontist. Both know teeth, but an orthodontist is better trained to move teeth. If you are in Old Town Alexandria, Virginia, come see Dr. Larson, the tooth straightening expert.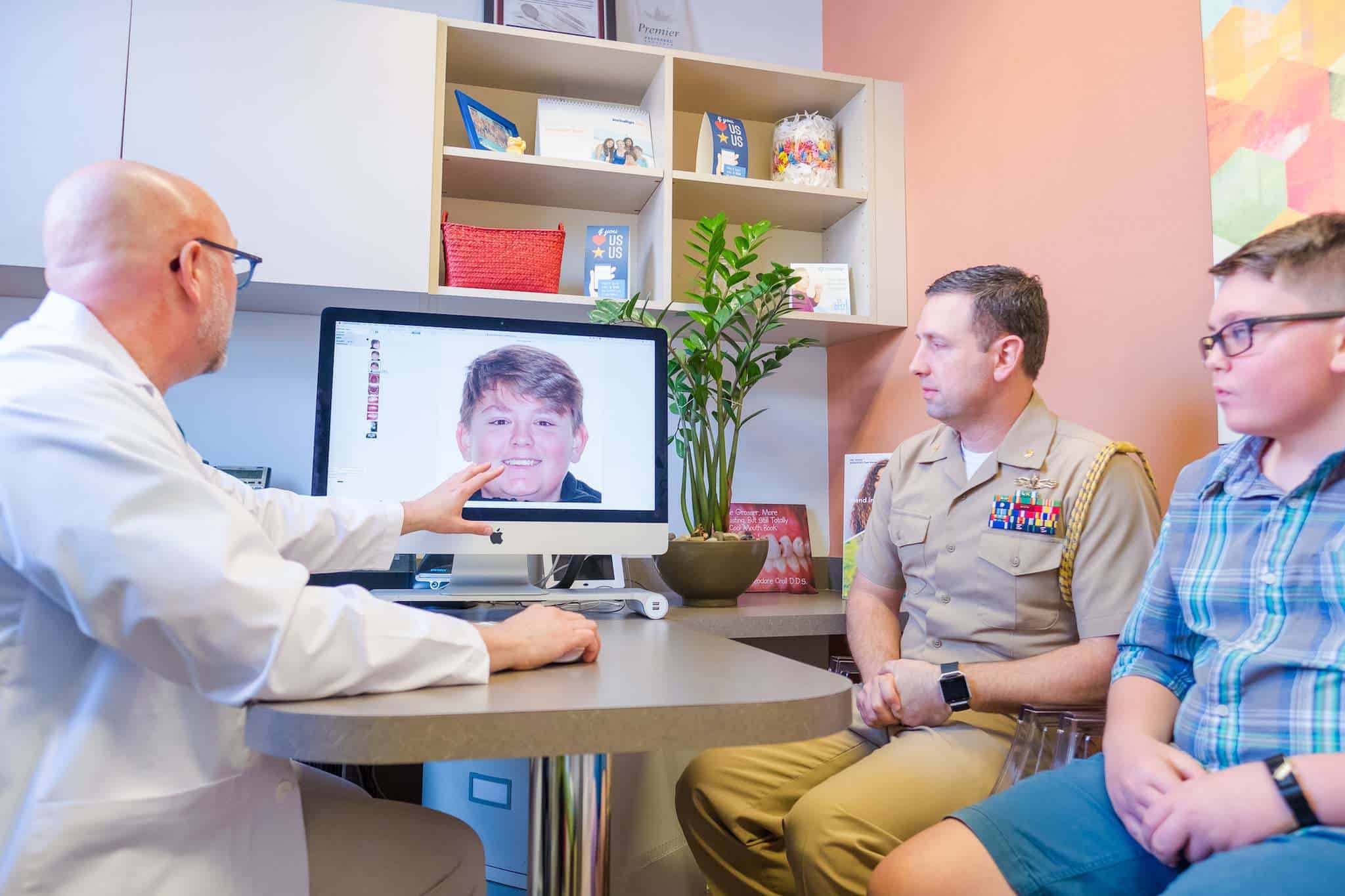 What Is A Cosmetic Dentist?
You may have also heard of the term "cosmetic dentistry," but what is a cosmetic dentist? This is a more specialized field of dentistry focused on the aesthetics of your smile. A cosmetic dentist performs dental procedures aimed at improving the look of your teeth. Cosmetic dentists offer services such as tooth whitening, color tooth matching, veneers or crowns, and repairs with tooth-colored fillings.
When Do I Visit an Orthodontist vs. a Dentist?
Now that you know how an orthodontist is different from a dentist, you probably want to know when you see a dentist and when you see an orthodontist. Who puts on braces? Your orthodontist. Who cleans your teeth? The dentist. Those are both pretty obvious, but what are orthodontic services and what are the services you should leave to your dentist?
Your orthodontist puts on braces or treats you with Invisalign clear aligners. But they can perform other services as well. Orthodontists can evaluate your child to determine whether they will need braces now or later. Some orthodontists can install appliances such as tongue cribs or palate expanders to prepare the mouth for proper orthodontic treatment.
An orthodontist often works with dentists to ensure the patient's teeth remain clean and strong throughout treatment. You'll still see the dentist for semi-annual cleanings, as well as any tooth repair, such as fillings. Your dentist will also give your teeth a good cleaning once your braces are off, so you'll be ready to flash that beautiful new smile to the world!
Get Started With an Orthodontist in Alexandria, VA!
Has your dentist told you it's time for orthodontic treatment? If so, it's easier to get started than you may think. Patients in the Alexandria, VA, area can begin their orthodontic journey with Larson Orthodontics using our virtual consult tool! This lets you get more information about treatment from anywhere, at any time, and on any device-desktop, laptop, or mobile device!
After you finish your virtual consult, we'll reach out to set up an in-person appointment. We'll bring you in to meet the Larson Orthodontics team, do a thorough examination, and let you know the best treatment options for you.